Stunning Palm Cove beach


Cairns Botanic Garden

Welcome to Cairns Discovery Tours.

Locally owned and operating since 1995.
Cairns Discovery Tours is an afternoon half-day Cairns city sightseeing tour that has become a highlight for many visitors. A great tour and introduction to Cairns. You can combine the Cairns City Sights Tour with Green Island, Cairns River Cruise, Cairns Aquarium, or the Cairns Dinner Cruise to enjoy a full day experience of Cairns and our region of Tropical North Queensland.
As a local of 28 years, we can assist you with the vast Cairns Tours available.
Great Barrier Reef Tours
, Fitzroy Island and Green Island, Turtle Tours,
Atherton Tablelands Food & Wine Tour
, The Daintree Rainforest,
Cooktown Tours
,
Kuranda Train and Skyrail
,
Port Douglas Markets
, White water rafting, Hot Air Balloon and Helicopter scenic flights just to name a few.
Book now Pay Later
You can book now and pay later. We recommend booking in advance, especially during the peak holiday season of July and August, school holidays, and Christmas, to avoid disappointment. We are happy to share our extensive local knowledge of the things to do in Cairns with you. Where the best water holes, car hire, beaches, dining experiences, picnic areas, boat hire, fishing and cultural experiences.

Things to do in Cairns.
At the
Cairns Performing Arts Centre (CPAC)
you will witness innovative and debut performances in addition to a well-crafted mix of classics and revived theatrical pieces. With multiple performance spaces across the CPAC site, the versatility of the venue enables the presentation of a variety of events, including theatre, music, dance, contemporary circus, opera, film and comedy.
Entertainment Cairns
Cancel your booking with ease, most tours offer a full refund for cancellations made 24 hours prior.
Contact Maryanne or Katie on (07) 40283567 – for assistance with your holiday and tour bookings.
OUR MOST POPULAR TOURS

1 Day Cooktown Tour 4WD Drive Adventure
Join a fun-filled and informative day tour from Cairns and Port Douglas to Cooktown for a unique 4WD adventure taking in some of Australia's most amazing scenery and natural beauty. On your Cooktown Day Tour, you will travel in a purpose-built 4WD, air-conditioned coach, catering specifically to small groups with a limit of just 12 passengers.
You will experience
Crossing the Daintree River via vehicle ferry
The ancient, tropical Daintree Rainforest
A secluded beach walk at Thornton Beach
Tackling Australia's iconic 4WD Bloomfield Track
Bana Yirriji Art & Cultural Centre in Wujal Wujal
The historic 1875 Lions Den Hotel
A tasty pub lunch in the original1874 Cooktown Hotel
Panoramic views across the region from the popular Grassy Hill Lookout
Visit Captain Cook's monument on the bank of the Endeavour River
"Ghostly tales" at Cooktown's James Cook Museum
The mysterious Black Mountain
Palmer River Goldfields
Breathtaking views across the Desailly Range
Please note that pick up and drop off from Port Douglas is from a central location - Port Douglas IGA Bus Stop -Ribbon Avenue at 7.45 am.
Departs Cairns, Palm Cove & Port Douglas Wednesdays - April to 30th Nov 2023
Extra Saturday departures - 17th & 24th June, 8th July, 23rd Sept 2023
Prices for May -Sept -Oct -Nov 2023
Adult $369.00 Child $339.00
Prices for June -July - Aug 2023
Adult $395.00 Child $369.00
This is an exclusive tour and fills fast. Book early to avoid disappointment.
More Info & Booking
Green Island & Outer Great Barrier Reef Tour from Cairns
Enjoy the best of both worlds with this complete Island and Outer Barrier Reef experience awaits with this exciting tour. Take a fast 45-minute catamaran ride to beautiful Green Island and enjoy 2 hours on this unique reef and rainforest coral cay. Then, you'll depart Green Island to continue your day of adventure and discovery with 3 hours on board Great Adventures spacious activity platform moored on the majestic Outer Great Barrier Reef
Departs Cairns Daily 8.30am Returns Cairns 5.20pm
Special Offer
Save $30 Adults/$15 Child/$75 Family
---
Adult $304.00 $274
Child $164.00 $149 4-14yrs
Family 2A2C $780.00 $705
Special offer is valid for travel up to 20th July 2023
More Info & Booking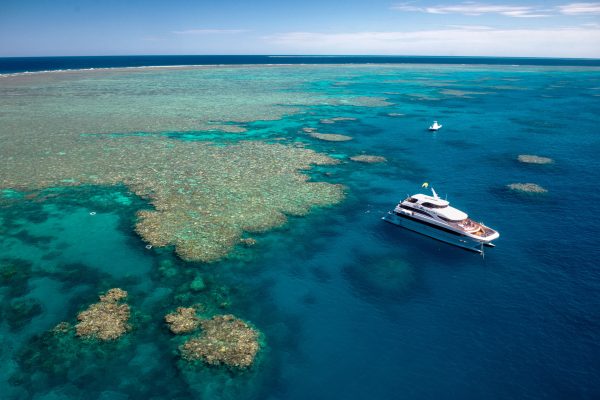 Get High Great Barrier Reef Day Tour
Departs Cairns 8.00am
Return Cairns 4.30pm
Experience the ultimate adventure package and best value day on the Great Barrier Reef. Includes a 10-minute scenic Helicopter flight to see the magical colours of the Great Barrier Reef from the air! Enjoy a full day to two locations on the Outer Barrier Reef on board the luxury vessel "Evolution" including snorkelling, lunch and sunbathing. Optional extras of introductory or certified dives.
Departs Daily
Adult $340.00
Child 4 -16 yrs $280.00
Pre-booked dive $80
Rate valid to 31st March 2024
More Info & Booking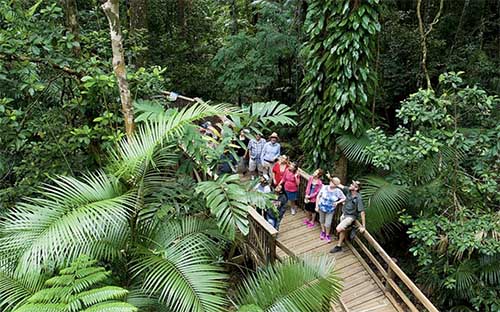 2 Day Reef and Daintree Rainforest
Experience the very best of Cairns, visiting two world heritage sites.
Save $70.00 per adult
Day 1 - Daintree Rainforest/Cape Tribulation Day tour
Day 2 -Great Barrier Reef Day Tour
Tours do not need to be taken on consecutive days
Departs Daily
Adult $390 Child (4-16yrs) $250.00
Family 2A+2C $980.00
Prices are valid to 31st March 2024
More Info & Booking
Daintree Rainforest - Cape Tribulation - 4WD Bloomfield Track Rainforest Day Tour
On this full-day Daintree, Cape Tribulation Rainforest tour, you will explore the Daintree Rainforest by air-conditioned vehicle with your local naturalist guide. This tour does a little more. It takes you beyond Cape Tribulation along 7klms of the 4WD Bloomfield Track to pristine Emmagen Creek, where you enjoy a refreshing rainforest freshwater swim. Spot crocodiles on a Daintree River cruise and learn about the flora, fauna, and history of the Daintree on a guided boardwalk tour. Visit Cape Tribulation Beach and enjoy a homemade Daintree ice cream on your journey home. Highlights: – Daintree River Cruise -Daintree Rainforest – Cape Tribulation Beach -Alexandra Lookout-4WD Bloomfield Track-Lunch-Small Group Touring
$220.00 Adult $150.00 Child
$695.00 Family 2ad 2ch(4-16yrs)
Rates are valid until 31st March 2024
More Info & Booking
Frankland Islands Reef Cruise
Depart Cairns 7am - Return Cairns 5.pm
This day is a spectacular all inclusive River, Reef and Island Cruise experience travelling on the only commercial operator permitted to visit the totally uninhibited Frankland Island. Normanby Island is a National Park, part coral cay continental island with a stunningly healthy and vibrant surrounding coral reef community. You can literally snorkel straight off the beach, with a vast array of tropical fish and the opportunity to swim alongside sea turtles. With the shortest open water crossing, you are there and home again in perfect timing.
With our Snorkel Stars activity, kids can learn how to snorkel with one of our Frankland Islands guides and take home a personalised certificate to commemorate their new snorkel skills.
Departs Daily
Adult $219.00 Child $129 (4-16yrs)
Family 2A2C $567.00
Includes Cairns CBD hotel return transfers
Prices valid to 31st March 2024
More Info & Booking
Cairns River Cruise & City Sights Tour
On this Cairns Tour you will experience a calm water cruise along Trinity Inlet, which is an oceanic inlet and serves as the port for the city of Cairns. It meanders through pristine creeks and takes in some of the quirky sites of the backwaters of Cairns too. Includes lunch on the waterfront at the award-winning Dundees restaurant before joining your afternoon Cairns City Sights Tour
Duration: 9.45am – 6.00pm
Adult $189.00 Child 3-14yrs $139.00
Prices valid to 31st March 2024
More Info & Booking
Dreamtime Snorkel from Cairns
Departs Cairns 9.00am
Return Cairns 5.00pm
Dreamtime is a unique Great Barrier Reef Tour Experience. A true cultural experience on the Great Barrier Reef. Step back into the Great Barrier Reef's Dreamtime with Indigenous Sea Rangers as they recount the Dreamtime stories of the local people and help you gain a deeper cultural understanding of the diverse ecosystems that make up the Great Barrier Reef. Enjoy up to 5 hours of fun with unlimited snorkelling with 2 Reef locations which may include Milln, Flynn, Hastings, Saxon, Norman & Thetford Reefs on the Great Barrier Reef. Air-conditioned lounges and a licensed bar.
Departs Cairns daily
PEAK SEASON PRICES
25th June - 31st October 23
21st December - 15th January 2024
29th March - 31st March 24
Adult $279.00 Child (4-14yrs) $149.00 Family 2A+2C $707.00
Infants 0-3 years are free of charge
__________________________________
OFF-PEAK SEASON PRICES
1st May - 24th June 23
1st November - 20th December 23
16th January 2024 - 28th March
Adult $269.00 Child (4-14yrs) $139.00 Family 2A+2C $677.00
Infants 0-3 years are free of charge

More Info & Booking
Kuranda Scenic Train and Skyrail Day Tour with return hotel transfers
You will be collected from your Cairns hotel accommodation
Departing Freshwater Station at 9.50am, enjoy the 1.5 hour journey on the Kuranda Scenic Railway, a historic railroad that travels through the breathtaking World Heritage Listed Rainforest.
Stop at Barron Falls Station for more spectacular vistas before arriving in the Village of Kuranda.
Enjoy 3 hours free time in Kuranda before returning via Skyrail.
Gliding just metres above the rainforest canopy in comfortable six-person gondolas, the Skyrail journey immerses you in an intimate rainforest experience.
Return transfer to your Cairns hotel accommodation
From Cairns 8am - 5.30pm
Adult $168 Child 4-14yrs $84
Family 2A+2C $420
Prices valid to 31st March 2024
More Info & Booking
Locally owned and operated since 1995

Fully refundable – if cancelled prior to 24 hours

Small group touring, fascinating sites, great views and landmarks around Cairns

Informative, knowledgeable local guides (We live here and we love it)

Cairns Discovery Tours Reviews