Cairns Tours & Day Trips
Welcome to Cairns Discovery Tours

Locally owned and operating since 1995.
Book now Pay Later
If you're looking for an unforgettable experience in the tropical paradise of Cairns, you've come to the right place. With over 28 years of local expertise, we are here to assist you in making the most of your time in our region of Cairns and Tropical North Queensland.
Our afternoon half-day
Cairns city sightseeing tour
has become a highlight for many visitors, offering a great introduction to Cairns itself. But why stop there? We also offer the option to combine this tour with other exciting adventures such as Green Island, Cairns River Cruise,
Cairns Aquarium
, or the Cairns Dinner Cruise, allowing you to enjoy a full day of exploration and discovery.
At
Cairns Discovery Tours
, we understand the importance of flexibility. That's why we offer a
"Book now Pay Later" option
, allowing you to book your tour with a deposit only and balance due 7 days prior to your experience. We highly recommend booking in advance, especially during peak holiday seasons, to ensure availability and avoid disappointment. Our knowledgeable local team is here to assist you every step of the way, sharing our extensive local knowledge and helping you create an unforgettable experience tailored to your preferences.
Things to do in Cairns.
At the
Cairns Performing Arts Centre (CPAC)
you will witness innovative and debut performances in addition to a well-crafted mix of classics and revived theatrical pieces. With multiple performance spaces across the CPAC site, the venue's versatility enables the presentation of various events, including theatre, music, dance, contemporary circus, opera, film and comedy. For what's happening in Cairns and surrounding regions, check
Entertainment Cairns
Cancel your booking with ease, most tours offer a full refund for cancellations made 24 hours prior.
Contact Maryanne or Katie on (07) 40283567 – for assistance with your holiday and tour bookings.
Locally Owned & Operated Cairns Tours Since 1995
Established over 28 years ago, Cairns Discovery Tours is proud of its roots in the vibrant and tropical region of Cairns. We've been bringing unforgettable experiences to locals and visitors alike since 1995, delivering unique tour services that highlight the richness and natural splendour of the region. As a locally owned and operated business, we possess a deep connection to our surroundings and a passion for showcasing our beloved region's beauty to the world.
Over the years, we've nurtured strong relationships with local businesses and cultural institutions, which allow us to provide an authentically local tour experience rich in insights you won't find in your typical guidebook. With us, you're not just a traveller but fellow explorers ready to share the beauty of our unique tropical paradise.
We Tour Fascinating Sites, Great Views & Landmarks around Cairns
Embarking on a journey with Cairns Discovery Tours is a ticket to a mesmerising world of awe-inspiring landmarks, breath-taking views and unique wildlife encounters.
Local Landmarks: We explore the heritage-rich areas with notable architectural wonders, revealing the hidden stories behind their existence.
Panoramic Views: Our tours encompass some of the most scenic routes, offering panoramic views of stunning landscapes that will leave you inspired. Our tour routes are carefully designed to traverse unique habitats where you can experience the region's remarkable biodiversity.
Our tours go beyond sightseeing to provide a deeper understanding of our region's natural and historical heritage. That's why each site is chosen not just for its inherent beauty but also for its cultural or ecological significance.
Informative, Knowledgeable Local Guides
At Cairns Discovery Tours, our team of professional local guides bring a wealth of knowledge and local insights to your tour, painting vivid pictures of the region's past and present, while introducing you to the nuanced ecological interactions that make our area such a biodiversity hotspot.
Our team aren't just guides; they're storytellers, historians and nature enthusiasts, providing an enriching and educational adventure that you'll remember for a lifetime. Friendly and approachable, our guides encourage questions and create an engaging, interactive experience. Moreover, our team will prioritise your safety and comfort throughout the tour, ensuring you have the best possible experience.
Why Choose Cairns Discovery Tours
Choosing Cairns Discovery Tours means opting for an immersive, comprehensive and authentically local experience. We are committed to excellence in every aspect of our service. As a locally owned and operated business, we bring a uniquely local perspective to our tours, showcasing the real essence of our region. With over two decades in the industry, we have perfected our tours to provide an unforgettable experience. Our local guides are enthusiastic, knowledgeable and dedicated to delivering an engaging, informative tour. We value each of our customers, tailoring our tours to accommodate specific interests and needs.
Join us at Cairns Discovery Tours for an adventure of a lifetime, as we guide you through the incredible sights, rich heritage and spectacular natural beauty of beautiful Cairns. Book a tour today and get ready to discover the undiscovered!
OUR MOST POPULAR TOURS

Green Island & Outer Great Barrier Reef Tour from Cairns
Enjoy the best of both worlds with this complete Island and Outer Barrier Reef experience awaits with this exciting tour. Take a fast 45-minute catamaran ride to beautiful Green Island and enjoy 2 hours on this unique reef and rainforest coral cay. Then, you'll depart Green Island to continue your day of adventure and discovery with 3 hours on board Great Adventures spacious activity platform moored on the majestic Outer Great Barrier Reef
Departs Cairns Daily 8.30am Returns Cairns 5.20pm
Special Offer
Save $30 Adults/$15 Child/$75 Family
---
Adult $304.00 $274
Child $164.00 $149 4-14yrs
Family 2A2C $780.00 $705
Special offer is valid for travel up to 31st March 2024
More Info & Booking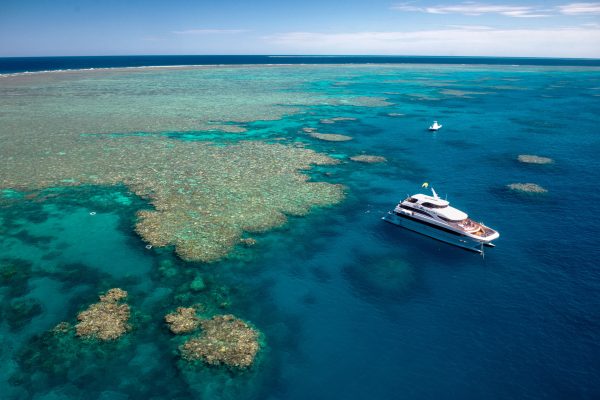 Get High Great Barrier Reef Day Tour
Departs Cairns 8.00am
Return Cairns 4.30pm
Experience the ultimate adventure package and best value day on the Great Barrier Reef. Includes a 10-minute scenic Helicopter flight to see the magical colours of the Great Barrier Reef from the air! Enjoy a full day to two locations on the Outer Barrier Reef on board the luxury vessel "Evolution" including snorkelling, lunch and sunbathing. Optional extras of introductory or certified dives.
Departs Daily
Adult $340.00
Child 4 -16 yrs $280.00
Pre-booked dive $80
Rate valid to 31st March 2024
More Info & Booking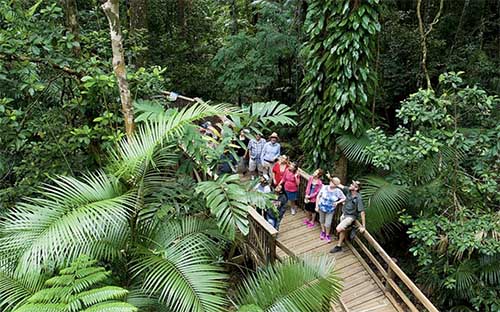 2 Day Reef and Daintree Rainforest
Experience the very best of Cairns, visiting two world heritage sites.
Save $70.00 per adult
Day 1 - Daintree Rainforest/Cape Tribulation Day tour
Day 2 -Great Barrier Reef Day Tour
Tours do not need to be taken on consecutive days
Departs Daily
Adult $390 Child (4-16yrs) $250.00
Family 2A+2C $980.00
Prices are valid to 31st March 2024
More Info & Booking
Daintree Rainforest - Cape Tribulation - 4WD Bloomfield Track Rainforest Day Tour
On this full-day Daintree, Cape Tribulation Rainforest tour, you will explore the Daintree Rainforest by air-conditioned vehicle with your local naturalist guide. This tour does a little more. It takes you beyond Cape Tribulation along 7klms of the 4WD Bloomfield Track to pristine Emmagen Creek, where you enjoy a refreshing rainforest freshwater swim. Spot crocodiles on a Daintree River cruise and learn about the flora, fauna, and history of the Daintree on a guided boardwalk tour. Visit Cape Tribulation Beach and enjoy a homemade Daintree ice cream on your journey home. Highlights: – Daintree River Cruise -Daintree Rainforest – Cape Tribulation Beach -Alexandra Lookout-4WD Bloomfield Track-Lunch-Small Group Touring
$220.00 Adult $150.00 Child
$695.00 Family 2ad 2ch(4-16yrs)
Rates are valid until 31st March 2024
More Info & Booking
Cairns River Cruise & City Sights Tour
On this Cairns Tour you will experience a calm water cruise along Trinity Inlet, which is an oceanic inlet and serves as the port for the city of Cairns. It meanders through pristine creeks and takes in some of the quirky sites of the backwaters of Cairns too. Includes lunch on the waterfront at the award-winning Dundees restaurant before joining your afternoon Cairns City Sights Tour
Duration: 9.45am – 6.00pm
Adult $189.00 Child 3-14yrs $139.00
Prices valid to 31st March 2024
More Info & Booking
Frankland Islands Reef Cruise
Depart Cairns 7am - Return Cairns 5.pm
This day is a spectacular all inclusive River, Reef and Island Cruise experience travelling on the only commercial operator permitted to visit the totally uninhibited Frankland Island. Normanby Island is a National Park, part coral cay continental island with a stunningly healthy and vibrant surrounding coral reef community. You can literally snorkel straight off the beach, with a vast array of tropical fish and the opportunity to swim alongside sea turtles. With the shortest open water crossing, you are there and home again in perfect timing.
With our Snorkel Stars activity, kids can learn how to snorkel with one of our Frankland Islands guides and take home a personalised certificate to commemorate their new snorkel skills.
Departs Daily
Out for refit 15th January - 12th March 24
Adult $219.00 Child $129 (4-16yrs)
Family 2A2C $567.00
Includes Cairns CBD hotel return transfers
Prices valid to 31st March 2024
More Info & Booking
Dreamtime Snorkel from Cairns
Departs Cairns 9.00am
Return Cairns 5.00pm
Dreamtime is a unique Great Barrier Reef Tour Experience. A true cultural experience on the Great Barrier Reef. Step back into the Great Barrier Reef's Dreamtime with Indigenous Sea Rangers as they recount the Dreamtime stories of the local people and help you gain a deeper cultural understanding of the diverse ecosystems that make up the Great Barrier Reef. Enjoy up to 5 hours of fun with unlimited snorkelling with 2 Reef locations which may include Milln, Flynn, Hastings, Saxon, Norman & Thetford Reefs on the Great Barrier Reef. Air-conditioned lounges and a licensed bar.
Departs Cairns daily
OFF-PEAK SEASON PRICES
1st November - 20th December 23
16th January 2024 - 28th March
Adult $219.00 Child (4-14yrs) $139.00 Family 2A+2C $577.00
Infants 0-3 years are free of charge
__________________________________
PEAK SEASON PRICES
21st December - 15th January 2024
29th March - 31st March 24
Adult $239.00 Child (4-14yrs) $149.00 Family 2A+2C $627.00
Infants 0-3 years are free of charge
More Info & Booking
Kuranda Scenic Train and Skyrail Day Tour with return hotel transfers
You will be collected from your Cairns hotel accommodation
Gliding just metres above the rainforest canopy in comfortable six-person gondolas, the Skyrail journey immerses you in an intimate rainforest experience.
Enjoy 3 hours of free time in Kuranda.
Depart Kuranda 3.30 pm, and enjoy the 1.5 hour journey on the Kuranda Scenic Railway, a historic railroad that travels through the breathtaking World Heritage Listed Rainforest.
Stop at Barron Falls Station for more spectacular vistas
Return transfer to your Cairns hotel accommodation
From Cairns 8.30am - 5.30pm
Adult $168 Child 4-14yrs $84
Family 2A+2C $420
Prices valid to 31st March 2024
More Info & Booking
Fitzroy Island Day Tour
Depart Cairns Daily at 8.45 am
Return to Cairns at 4.45 pm
Fitzroy Island's full-day experience includes 45 minutes ferry transfer each way+ snorkel equipment hire. You can snorkel straight off the beach and discover amazing marine life and sea turtles, or sit back and soak up the serenity on the sandy shores of the famous Nudey Beach (by name only) – voted the best beach in Australia.
Please note Fitzroy Island is a continental island, and the beach is made of coral and sand…..wear sandals, thongs or beach shoes for comfort.
Return Ferry transfers only
Adult $93.00| Child $53.00 (4-15yrs) Family $239.00
Snorkel equipment $30.00 per person
Prices valid to 31st March 2024
More Info & Booking
Locally owned and operated since 1995

Fully refundable – if cancelled prior to 24 hours

Small group touring, fascinating sites, great views and landmarks around Cairns

Informative, knowledgeable local guides (We live here and we love it)

Cairns Discovery Tours Reviews