Atherton Tablelands Food & Wine Day Tour
Departs Wed, Thur, Fri and Sat from Cairns & Palm Cove
Enjoy the tastes of Tropical North Queensland on this boutique food and wine adventure. Travel though a variety of contrasting landscapes as you discover the Atherton Tablelands.
Lush rainforest, stunning ochre Savannah plains and rich volcanic soil allowing our farmers to grow many diverse crops. Bananas, coffee, sugar cane, avocados, mangoes, macadamia nuts, citrus and much more which you will learn about as you taste your way around this amazing 'Food Bowl' of the Atherton Tablelands.
Staying in Port Douglas Tour departs Thursday and Fridays
Living in Cairns for over 25 years this is one of my favourite tours!
What You Can Expect
Complimentary hotel pick up, small group tour, 7 Delicious locations where you will taste Cheeses, Coffees, Chocolates, Tropical Fruits and local nuts, Liqueurs, Wines, Beers and Spirits.
Tour Highlights
Stop 1 - Sunset Ridge Farm (exclusive visit)
This farm is situated on the top of a mountain range over looking green rolling hills, lush rainforest and overlooks part of the Tablelands with magnificent views. They grown several different varieties of native fruits, the main two being, Davidson Plum and Lemon Aspen. These natives are indigenous to the rainforests of North Queensland. Here you will taste a variety of homemade breakfast treats made from all these fruits and you can purchase some of their delicious Davidson Plum James and marshmallows unique to this region.
Stop 2 - Rainforest Bounty
On the scenic outskirts of the historic rural town of Malanda we visit a private property to taste Gallo Cheeses with their signature condiments. We also taste a native cocktail and sip Queensland red or white wine whilst overlooking the Johnston River from their river pavilion.
Stop 3 - The Australian Platypus Park at Tarzali Lakes
The Australian Platypus Park is home to a thriving platypus population. We take a wonder down to see these wonderful creatures found in a spring fed pond surrounded by lush tropical vegetation. Lunch today are all produced in-house using only the freshest quality ingredients and include Crocodile sausage rolls, Red Claw (Yabby)and Kangaroo with fresh local salads topped off with a Tarzali Lakes boutique beer, Dragon Fruit cider, Lemon Myrtle tea and tastings of the Murdering Point Winery range. This menu is EXCLUSIVE to this tour and there is time to purchase some of the smoked products and sauces.
Stop 4 - Gallo Dairyland
We travel to the historic village of Atherton, a patchwork of farmland and rolling green hills appear before us. Gallo is a fully operation dairy farm and gourmet cheese factory spread across 1000 acres of rich red volcanic soil. They also make delicious handcrafted chocolates which we get to taste.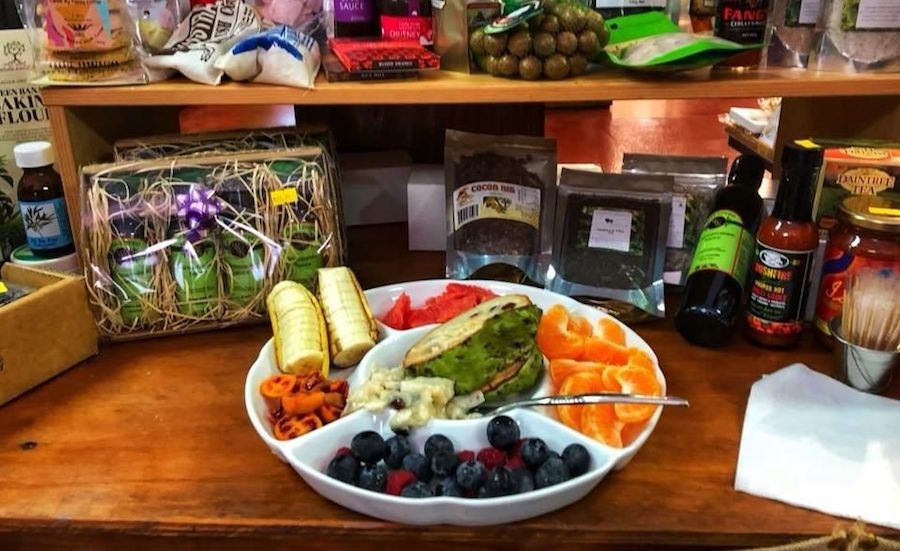 Stop 5 - The Humpy
The Humpy is the best place to go for freshly harvested Atherton Tablelands produce straight from the growers. Vegetables, tropical fruits and hundreds of different varieties of nuts, dried fruits, locally produced honey, jams and sauces. Here we taste some of the seasonal fruits and hot locally grown peanuts and macadamia nuts. There will be plenty of time to browse this quirky grocery store.
Stop 6 - Mount Uncle Distillery
Close by is the 2017 Australian Distiller of the year, Mount Uncle Distillery, North Queensland's first distillers and one of the premier attractions on the Atherton Tablelands. Set in beautiful landscaped gardens within a Banana plantation, Mt Uncle Distillery is a stunning place to visit and opportunity to try some of their award winning liqueurs and spirits.
Stop 7 - Barnwell Station
On the return journey home we travel towards Kuranda where we find surrounded by tropical rainforest, Barnwell Station. A true working Aussie cattle station specialising in Australian Wagu Beef. Sitting on the balcony enjoy local coffee and tea with scones, local jam and cream overlooking the picturesque farm land of over 626 hectares.
ADDITIONAL INFORMATION
Adults only, children under 12 not catered for.
Lunch and all wine, cheese, coffee, chocolate "TASTING" included.
Gluten free or vegetarian lunch and lactose free cheese available on request.
Bring cash/credit cards for additional purchases of souvenirs, wine, chocolates, coffee.
Platypus viewing not guaranteed.
Due to Covid-19, season changes and weather conditions some stops may be subject to change at the last minute without notice.