Great Barrier Reef Helicopter Tours
Discover the Great Barrier Reef on a scenic helicopter flight from Cairns or Port Douglas. Choose from 30, 45-minute scenic flights from Cairns or combine your Great Barrier Reef Tour with a flight to or from the Great Barrier Reef. The best of both worlds when visiting one of the most amazing World Heritage Listed National Parks.

Please call Maryanne on (07) 4028 3567 or email us to discuss the many options and times available for Great Barrier Reef Helicopter Tours. Some of the Great Barrier Reef Tours also offer a 10-minute Scenic Flight option from $199.00 per person when you are out on the Reef.

Flights require a minimum of 2 people to operate. Solo travellers' bookings accepted
Fly/Cruise Great Barrier Reef Half Day Tour
Departs Cairns at 12.40 pm
Return to Cairns 4.30 pm
Great Barrier Reef 'Highlights' Tour.
This tour is perfect for those with limited time and who still want to experience the World Heritage Great Barrier Reef. Departing Cairns at 12.40 pm, enjoy a 25-minute scenic helicopter flight over the reef to meet the superyacht Evolution. Spend 1.5 hours at Hastings Reef snorkelling before cruising back to Cairns whilst enjoying a late lunch and a complimentary glass of wine. (EMC - Environmental Management Charge payable on board to Evolution)
Adult or Child 3+yrs $469.00 +$20.00 EMC Charge
Infant 0-2 years (Free of Charge)
Price valid until 31st March 2024.
More Info & Booking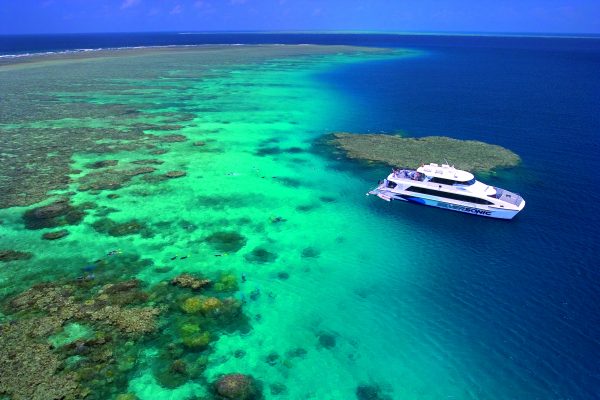 Cruise - Fly Great Barrier Reef
Depart Cairns 8am
Return Cairns 3.15pm
Experience the ultimate adventure package and best value day on the Great Barrier Reef. Enjoy all our full-day tour inclusions, including snorkelling, lunch, and sunbathing, or you can choose one of our optional activities, such as an Introductory or Certified Dive or Semi submersible coral viewing. At Hastings Reef, you will board a luxury Nautilus Aviation Helicopter for a 25-minute scenic flight to see the magical colours of the reef & sand cays from the air while travelling back to Cairns
Day Tour Itinerary:
7:30am Checkin at Reef Fleet Terminal 7.15am- 7.45am
8:00am Evolution departs Marlin Marina, Cairns
11:30am 3 hours snorkelling at 1st reef location and BBQ Lunch
1:00pm Evolution arrives at 2nd reef location for you to enjoy up to 2 hours snorkelling
2:45pm Depart reef on helicopter flight back to Cairns
3:15pm Arrive back in Cairns approx - arrival at Marina Point, 2 Pier Point Road,
Included in your day
5 hours snorkelling at the Outer Great Barrier Reef
25 min flight over the Great Barrier Reef and sand cays back home to Cairns
Snorkelling equipment (including prescription mask if required) & floatation devices
Free lycra/sun-suit hire
Delicious BBQ Lunch including fresh fish, prawns, steak, vegetarian options and a variety of fresh salads.
(special dietary catered for - contact us prior to travel)
Tea & coffee provided
Experienced & professional dive instructors
Spacious air-conditioned modern lounges and stylish upper deck to relax in comfort.
Optional Activities
Semi Submersible coral viewing $20 Adult/$10 Child.
CRUISE/FLY
Cruise to the Reef & Fly Return
25 minutes flying & 4.5 hours at the reef
$499.00 per person
More Info & Booking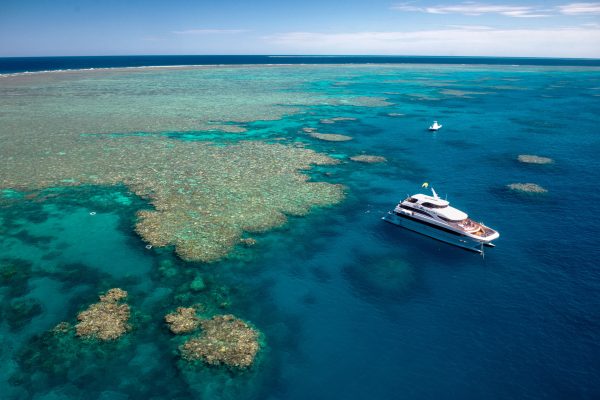 Get High Great Barrier Reef Day Tour
Departs Cairns 8.00am
Return Cairns 4.30pm
Experience the ultimate adventure package and best value day on the Great Barrier Reef. Includes a 10-minute scenic Helicopter flight to see the magical colours of the Great Barrier Reef from the air! Enjoy a full day to two locations on the Outer Barrier Reef on board the luxury vessel "Evolution" including snorkelling, lunch and sunbathing. Optional extras of introductory or certified dives.
Departs Daily
Adult $340.00
Child 4 -16 yrs $280.00
Pre-booked dive $80
Rate valid to 31st March 2024
More Info & Booking
30 or 40 minute Scenic Reef Flight
A spectacular 30 or 40 minute scenic Cairns helicopter flight will take you beyond the inner reef to the outer regions of the Great Barrier Reef, where the frequency of coral structures is outstanding. Explore more widely, watching out for the incredible reef wildlife flourishing in this World Heritage-listed icon. You will pass sandy Vlasoff Cay and on to the outer reaches of the Great Barrier Reef to provide you with the ultimate reef experience. The colours and textures of the reef and clear blue waters framed by the massive North Queensland skies provide unforgettable backdrops for the keen photographer to capture once-in-a-lifetime images. Our local pilots/guides provide informative commentary and insights into the history of the reef and its abundance of marine inhabitants.
$499.00 per person (minimum 2) 40 minute flight
$399.00 per person (minimum 2) 30 minute flight
More Info & Booking
Cruise/Fly Great Barrier Reef with Quicksilver Cruises
Quicksilver Cruises' platform boats are inclusive for passengers of all ages and varying abilities. Located on the very edge of the Continental Shelf, Quicksilver is the outermost and only activity platform at the Agincourt ribbon reefs, where water visibility is at its best. The 35 minute scenic flight between Port Douglas and Agincourt Reef delivers stunning panoramic views extending from the tropical rainforest clad coastline, across the azure waters of the Coral Sea and into the very heart of Australia's Great Barrier Reef.
Depart Cairns 8.00am
Depart Port Douglas 10.0am 35 minutes flying, 2.5 hrs at the Reef.
$669.00 per adult
$505.00 per child
$2154.00 per family 2ad 2ch
Transfers from Cairns & Northern Beaches Adult $39.00 Child $22.00 Family $100.00 return
Transfers from Port Douglas, Thala Lodge & Silky Oaks Adult $22.00 Child $11.00 Family $55.00 return
Prices valid to 31st March 2024
More Info & Booking
Great Adventures -Cruise/Fly from Cairns
Cruise in comfort aboard your fast catamaran with Great Adventures to the activity platform moored at the Great Barrier Reef. Activities for swimmers and non-swimmers, snorkel and dive amongst coral gardens and marine life. Return to Cairns on a 25 minute scenic flight over the Great Barrier Reef. Your highly skilled pilot will share their local knowledge of the region while on the lookout for Turtles, Dolphins, Manta Rays, large schools of pelagic fish and even majestic Humpback Whales (Jul-Sep).
Alternative Fly/Cruise option available.
Rate valid to 31 March 2024
Fly/Cruise 12.30pm - 5.30pm
Cruise/Fly 10.30am - 3.40pm
Adult $565.00 per person
---