Great Barrier Reef Day Tours
Visitors come to Cairns in Tropical North Queensland to experience the World Heritage Listed Great Barrier Reef. This Great wonder of the world is a breathtaking aquatic park with 2900 individual reefs and 900 islands that span over 23,000 kilometres of the Northeastern coast of Australia.
There are a variety of Great Barrier Reef tours from Cairns and Port Douglas that cater to everyone, from those who are adventurous and confident in the water to those who prefer to stay dry and observe.
I am very fortunate that The Great Barrier Reef is my backyard, and being a water baby, I travel to the reef as much as possible. So far in 2022, I have experienced Frankland Islands (twice) Down Under Cruise & Dive on the magnificent vessel Evolution, Sunlover Cruises, and had the opportunity to visit the construction of the new Reef Magic pontoon.
It's important to consider how much time you have to spend at the Great Barrier Reef before choosing the boat or island tour that is right for you. You may also want to consider your swimming abilities and the type of reef experience that will make you feel most comfortable.
Please call us to discuss which Great Barrier Reef Tour or Island tour would suit you best. Happy to share our local knowledge with you.
P 07 40283567 or 0412 719 389. Please note prices are valid until 31st March 2023
Finally, remember that your visit may be impacted by visibility and weather conditions, and on a clear sunny day, you'll have the best viewing experience!
Sunlover Cruises from Cairns
Depart Daily
$249.00 adult $142.00 Child 4-15yrs Family 2 ad 2 ch $640.00

Sunlover Cruises to the Great Barrier Reef and the double-story Moore Reef Marine Base Pontoon. Anchored 54kms from Cairns at Moore Reef, the pontoon has been custom-built for all ages to explore and enjoy the wonders of the World Heritage Great Barrier Reef. Recently refurbished and now features an upper-level sun deck where you can experience the Sunlover Sunslide, a 30-metre spiral descent into the tropical waters. Perfect day for families with hours of fun for everyone.
Dreamtime Snorkel from Cairns
Departs Mon-Wed-Sat
$229 per adult $109.00 per child (4-14yrs) Family 2 ad 2 ch $567.00
Dreamtime Snorkel is a unique Great Barrier Experience. Step back into the Great Barrier Reef's Dreamtime with Indigenous sea rangers who recount the Dreamtime stories of the local people and help you gain a deeper cultural understanding of the diverse ecosystems that make up the Great Barrier Reef. Enjoy up to 5 hours of fun with unlimited snorkelling and 2 Reef locations on the Great Barrier Reef. Air-conditioned lounges and a licensed bar. (Dreamtime no longer offers diving) dedicated snorkel reef experience.
Great Barrier Reef Day Tour to Frankland Islands from Cairns
Adult $205.00 Child 4-16yrs $124.00 Family 2ad 2ch $534.00 
Departs Mon, Tue, Fri, Sat, Sun
Daily from September 2022
This day is a spectacular all inclusive river reef and island cruise experience travelling on the only commercial operator allowed to visit the totally uninhibited Frankland Island. Normanby Island is a National Park, part coral cay continental island with a stunningly healthy and vibrant surrounding coral reef community. Experience a guided snorkel tour with a vast array of tropical fish and the opportunity to swim along side sea turtles. With the shortest open water crossing you are there and home again in perfect timing.
Green Island & Outer Great Barrier Reef Tour from Cairns
2 hours Green Island 3 hours on the Outer Barrier Reef
Adult $292.00 Child $158.00 Family 2 ad 2 ch $749.00
Departs Cairns Mon – Wed – Fri
The complete reef and island experience awaits with this exciting tour. Take a fast 45 minute catamaran ride to beautiful Green Island and enjoy 2 hours on this unique reef and rainforest coral cay. Then, you'll depart Green Island to continue your day of adventure and discovery with 3 hours on board Great Adventures spacious activity platform moored on the majestic Outer Great Barrier Reef
Hanging out with the fish on the Great Barrier Reef
Passions of Paradise Cairns
Departs Cairns: Sunday to Thursday
$220.00 per adult $130.00 per child Family 2ad 2 ch(4-14yrs) $590.00
A multi award winning Great Barrier Reef Tour from Cairns. This Great Barrier Reef Tour is another of my favourites as a local. Why? Passions of Paradise is a true local family business operating since 1987. In 2017 they built Passions III at 30 meters, it is one of the fastest and largest sailing catamarans in Australia. Built to travel at 14 to 15 knots, Passions III can access the furthermost outer reef locations.
Great Barrier Reef Tour with Reef Magic from Cairns
Adult $279 Child $139 Family $697
Departs Cairns Tue-Thu-Sun-additional days available please check availability
This NEW all-weather pontoon is the most technologically advanced pontoon on the Great Barrier Reef, launched in April 2022.
Platform activities catering to all ages and swimming abilities including non-swimmers.
More space and less crowds so you can experience the Great Barrier Reef in comfort.
For those who simply want to relax and enjoy the Great Barrier Reef without getting wet,
we offer a spacious sundeck, underwater viewing deck, a glass bottom and semi-submersible boats.
Great Barrier Reef Day Tour with Quicksilver Cruises from Cairns, Palm Cove & Port Douglas
Departs Daily from Port Douglas $284.00 Adult $147.00 Child (4-14) Family $722.00 valid to 31 March 23
Transfers from Cairns Adult $35.00 Child $20.00 Family $90.00 return
Quicksilver Cruises' platform boats are inclusive for passengers of all ages and varying abilities. They allow guests to comfortably experience the Great Barrier Reef at their own pace. Passengers who are traveling with small children, have limited mobility or don't want to get into the water at all can still experience the Great Barrier Reef in a semi-sub and underwater observatories. Located on the very edge of the Continental Shelf, Quicksilver is the outermost and only activity platform at the Agincourt ribbon reefs, where water visibility is at its best.
Great Barrier Reef Day Tour with Reef Experience from Cairns
Adult $205.00 Child $125.00  (4-14) Family 2 ad 2 child $535.00
Departs Daily from Cairns 
5.5 Hours on the Great Barrier Reef. All inclusive of Cairns CBD hotel transfers, breakfast, One FREE Scuba Dive, Glass-Bottom Boat Tour, Lunch, snorkelling, light snack on the journey home. GREAT VALUE
Down Under Cruise from Cairns
Depart Daily
$215 adult $130 Child 4-16yrs Family 2ad 2ch $590 extra child $50.00  
Cruise onboard Cairns' fastest, most luxurious super-yacht, Evolution, to the Outer Great Barrier Reef.
The 35-metre superyacht departs Cairns for the reef, with 5 hours spent exploring 2 spectacular and exclusive outer Great Barrier Reef locations for an adventure, fun-filled day. Introductory Dives are only $50.00, Semi-submersible $20.00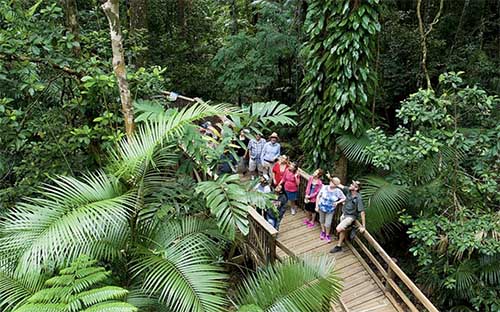 2 Day Reef & Rainforest Package
Adult $380.00 Child 4-16yrs $240.00 Family 2 ad 2ch $980.00
Great Value, prices valid to 31st March 2023
This is a very popular experience, and books out early – call (07) 40283567 for availability 
Day 1 Daintree/Cape Tribulation Tour from Cairns-Palm Cove
or Vice Versa
Day 2 Great Barrier Reef on Evolution
Tours do not need to be taken on consecutive days
Great Barrier Reef Day Tour with Ocean Freedom from Cairns
Departs Daily
$235.00 Adult $175.00 Child 4-14 Family 2 ad 2 ch $733.00
Cruise to 2 unique Great Barrier Reef sites in style and speed on a 20 metre motor catamaran. Ocean Freedom is the only boat in Cairns offering a full 6 hours on the reef, meaning there's absolutely no rush in the day. You get to enjoy all the complimentary water activities, whilst still having time to relax and enjoy a long lazy lunch. Experience an adventure drift snorkel tour with our attentive crew and jump on board for an informative glass bottom boat tour. Maximum 75 guests
Ocean Freedom Great Barrier Reef Tour
Silversonic – from Port Douglas
Silverswift – from Cairns
Dive and Snorkel Adventures
Adult $252.00 Child $188.00
Silversonic takes you to explore 3 stunning and exclusive outer edge locations at the renowned Agincourt ribbon reefs in superb style and comfort. Spend 5 hours at the reef enjoying unlimited snorkelling and diving.
Silverswift takes you to visit three different outer reef sites at Flynn, Pellowe, Milln and/or Thetford Reefs. Locations vary with the day's diving and snorkelling conditions however each site is chosen for visual impact, and ecological diversity.
Swimming with Turtles on Frankland Island